Tel (507) 268-0113
Fax (507) 268-2883

aiams@hotmail.com

In Panama:

Alice I. Kittredge
Apartado 0850-00781
Las Cumbres, Panama, Republic of Panama

Or in the United States:

Alice I. Kittredge
PTY-791
PO Box 025207
Miami, FL 33102

Aveling K. Hansen
8470 Camargo Road
Cincinnati OH 45243
Tel: 513-791-9655

William G. Kittredge
2606 Night Rains Drive
Lutz, FL 33548
Tel: 813-949-0695



Home

The owners of Finca Tupisa are seeking investors for a tropical hardwood reforestation plantation located in the Darien province at the eastern end of the Republic of Panama. The plantation consists of approximately 150 hectares of reclaimed secondary jungle and scrub. Presently 60% of the land is planted and contains approximately 60,000 trees, including:
20,400 cedar (cedro espino- Bombacopsis Quinata and cedro amargo- Cedrela Odorata [both sixteen years old]),

15,800 tropical oak (roble- Tabebuia Pentaphyllia [sixteen years]),

16,200 mahogany (Switena Macrophyllia [5000 sixteen years, 6000 eleven years, 5000 six years],

800 cativo (Prioria Aromática [sixteen years]),

6,000 teak (Tectona Grandis [1200 sixteen years, 4800 one year), and

1,800 espavé (Anacardium Excelsium [four years]).
There are 12,000 cacao bushes (20 years old) which are not maintained or harvested because the costs are currently too high given the location. They have been severely pruned as of June 2008.

Finca Tupisa is controlled by a Foundation of Private Interest, Fundación Forestal Tupisa, which has no other holdings, and the Foundation itself is for sale. The asking price is US$ 2,250,000.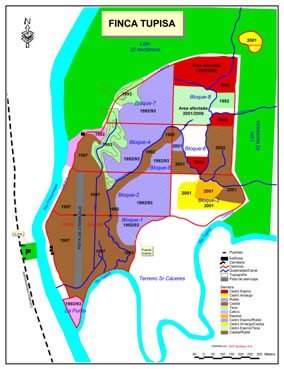 This map is the guide to the photos in gallery. It can be printed out
for easier reference. To expand it, click on it, then click on the "expand" magnifying glass.