Region
Yaviza
The remote Darien province is experiencing the early stages of economic development due to worldwide interest in forestry and jungle preservation, both associated with the prevention of global warming. At the end of the 260-kilometer Interamerican Highway in the heart of the Darien, on the banks of the tidal Chucunaque River, is the town of Yaviza.

Yaviza is a small, bustling town. It is the supply depot for the surrounding areas and features a commercial wharf, rustic restaurants, a large school, a small hospital, a variety of shops, and a handsome church. The nightlife, while not continental, is lively.

The friendly local inhabitants comprise a competent, cost-effective, and convenient labor pool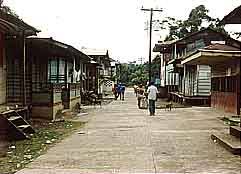 for the plantation.
Travel between any town or village not on the highway but on the Chucunaque or its tributaries is by piragua. The jungle is laced with Indian walking trails all over the Darien.