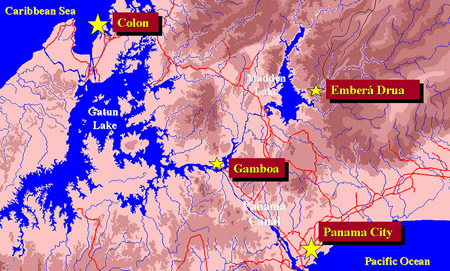 Contact Us:
Cellular telephone:
Ivan- Marketing and Customer Relations (507) 6709-1233
Community telephone: (507) 333-2850 in Panama
Please remember that we only speak Spanish or our dialect, Embera. Ask for Johnson, Tourism Cooperative President, to make arrangements in English.
Email: emberachagres@yahoo.com
(We review our email every 2-3 days)
Visit us on Facebook:
http://www.facebook.com/home.php?#!/group.php?gid=280414553013


How to Visit Us

We are located approximately 1.5 hours northeast from Panama City, in the district of Chilbre.
You can visit us in two ways: through the service of a tour operator or by contacting us directly. If you contact us directly, we can help you arrange transportation, complete with an English speaking guide.
When groups contact us directly, we earn a higher rate per visitor than when they come to us through an agency. It is less expensive for the visitors as well. But if you prefer a tour operator, here are some of our favorites:

GAPA Travel
Viajes y Destinos
Panoramic Panama

Driving Directions from Panama City
Take the Transístmica Highway to the community of Cabima. Or, to arrive quickly (and bypass city congestion), you can choose to take the Corredor Norte to the "Colon / Las Cumbres" exit, where you will end up again on the Transístmica.

Then, continue north toward Colon on the Transístmica Highway for 6.8 kilometers to La Cabima. There, you will see a Super 99 grocery store, Mr. Precio and a Pío-Pío restaurant in a small shopping center on the right.

Turn right after the shopping center and pedestrian bypass. Immediately after turning, follow the road as it curves slightly to the left.

Continue for 6.5 kilometers until you reach the Bayano Cement Factory (Cemento Bayano).
Turn left at the factory's sign marked "Cemento Bayano."
Continue on for 8 kilometers until you reach a green and yellow one-story building on your left. This is the Panama National Environmental Agency (ANAM) station in Chagres National Park.
Pull in and register as a park visitor and pay a small entrance fee ($1 per person for Panamanians, $3 for others).
Exiting the station, turn left back onto the road. Follow this road to the lake. This is the port of Corotú. Welcome!
You can park your car at the port securely. There is a police presence overseeing the port all day.