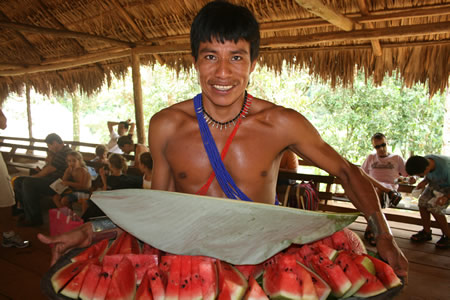 Enjoy National Fruits

Visit Us!
Our tourism package includes:
A 45 minute journey through the Chagres National Park in a traditional Emberá canoe
A personal talk with village members to learn about the fascinating culture, rituals, and history of the Emberá people An interactive explanation about our creative, colorful handicrafts
Fresh local cuisine, served on a traditional wood or bijao leaf plate
An exhibition of indigenous music and dance to the exciting, unique rhythm of chimbonbón (we may even invite you to join us!)
A walk through our nature trail with a botanical doctor to learn about our traditional medicinal plants
A visit to a the pristine waters of a nearby waterfall or free time on our community river beach

Activities by special request:


Spear fishing with a harpoon and mask
Bird watching
Traditional Story Telling
Traditional body painting with natural vegetable dyes (jagua and achiote)
Overnight stay in a traditional Emberá hut, overlooking the Chagres River
Snorkeling on our beach
Tubing Adventure
If you are looking for a specific experience and want to stay for one or several nights, just ask. We take requests from birdwatchers, survival trekkers, kayakers, nature photographers and some who simply want to take more time to absorb our peaceful, natural environment. Those looking for a challenging trekking experience may find themselves running to catch up with our swift guides! By all means, let us know what we can do to accommodate you.

What To Bring
When you visit us, here are some suggestions on what to bring:
bottled water
sunscreen
hat
bug repellant
bathing suit (you just may want to go for a swim!)
waterproof sandals (if desired)
binoculars
camera/film/batteries
rain poncho (April through December)
garbage bag for keeping purse or backpack dry (April through December)
Overnighters should also consider bringing:
a lightweight sleeping bag
long pants
long-sleeve shirt
socks and tennis shoes
mosquito net
flashlight

Things You Should Know
The village water supply flows through a PVC tube from a clean creek high above the village. It is filtrated, but not chlorinated. If you come independently, you may choose to bring your own bottled water.
We have simple flush toilets and showers available for tourists. However, we prefer to bathe in our pristine river- and you may too!
If you would like to buy artisan work, please bring cash in small denominations ($1 and $5). We are a humble village and have difficulty making change for larger bills.
There are only a few individuals in the village that speak conversational English, although many of us are learning basic English from our Peace Corps volunteer. We speak mostly Spanish and our own native language, Emberá.
We expect you to take photographs, so don't be shy!

Client Testimonies
I would have to say that the highlight of my trip to Panama was the visit to Embera Drua. From the moment you step into the dug out canoe you are greeted by the warmth of the Embera people and are completely immersed into their world as you sail up the pristine Charges River to their village deep in the Jungle of the Charges National Park. Once in the village you have the opportunity to learn about the traditional handicrafts, participate in Embera dancing, and my personal favorite getting a traditional Embera tattoo (fake of course)!!! If you are the adventurous type you can float down river in an inter tube and swim in the pool of a waterfall. It honestly feels like you are living an article in a National Geographic Magazine. This is honestly a trip you can't miss!
Kate Jostworth
Atlanta, Georgia, USA
kate.jostworth@gmail.com
We truly did have a great time at the Embera Drua Village. We were in Panama for 2 1/2 weeks, went to El Valle, Santa Fe, Boquete, and points in between and our 2 night stay at the Embera Drua Village was by far the highlight of our trip. It was most beneficial to stay overnight and especially our 2 night stay was wonderful. Several of the villagers spoke some English and with our very limited Spanish, we managed quite well. We were able to see how they live on a daily basis rather than coming just for the day. Even those who spoke no English came up to us and visited and made us feel totally welcome. The overnight may not be for everyone, but for those who like adventure, don't need all the amenities of home, but want a truly rewarding experience, we would highly recommend it.

Even if one can't make the overnight, the canoe ride up the river, dancing and just seeing the village was great.

Our regards to Mateo, Angel, Johnson, the medicine man and the rest of the villagers whose names I don't remember.

Phil and Bonnie Kukkonen
Hancock, Michigan, USA
bonnieandphil@gmail.com
An Embera Day Trip is the #1 Rated Activity
in Panama on TripAdvisor.com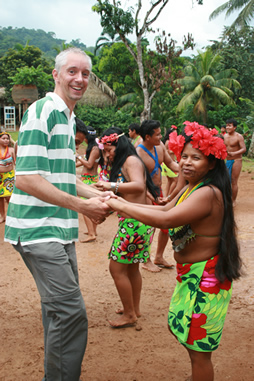 Dance to the Rhythm of Chimbonbon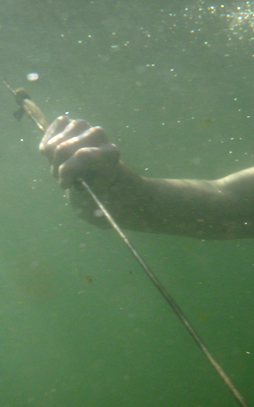 Learn to Spear Fish with Emberá Men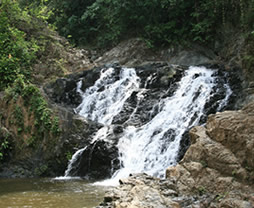 Visit our Waterfall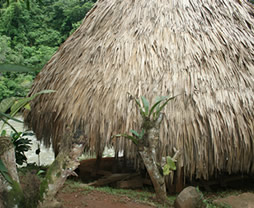 Sleep in a Traditional Emberá Cabana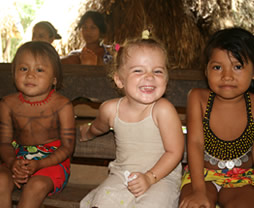 Visit with Emberá Children

Have a Traditional Wedding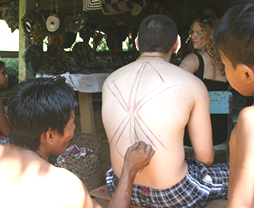 Get a Traditional Embera Tattoo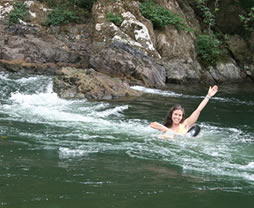 Have a Wild Adventure on the Rapids
of the Chagres River